SEC + Public Company Services

In today's ever-changing regulatory environment, it is becoming increasingly difficult for the management of public companies to keep up, requiring the need for talented professionals who understand the complex rules associated with regulatory compliance.

Our RRBB SEC Practice Group has extensive expertise in the area of SEC regulation and reporting. We provide consulting, auditing, and accounting services to several publicly held corporations. Our experience includes registration and reporting requirements under the Securities Act of 1933 and the Securities and Exchange Act of 1934 as well as assisting with resolving of and responding to SEC comment letters.
SEC Services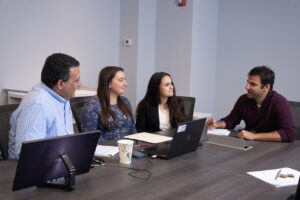 For over 30 years, RRBB has been assisting clients in expanding their capital structure through private placement offerings, bridge loan financing, and initial public offerings (IPOs). Registered with the Public Company Accounting Oversight Board (PCAOB), we are familiar with the Securities and Exchange Commission's Rules and Regulations governing public companies.
Over the years, we have consulted with small to medium-sized companies who wish to go public. Our approach goes beyond providing advice on the necessary audit, accounting, and disclosure requirements. We advocate the formation of an "IPO Team" consisting of the client, the SEC attorney, the underwriter, and our skilled SEC group members. Working as a team, the project has the ability to move along efficiently with all parties contributing their skills and experience towards the company's goal of achieving public company status.
Not all companies, however, are ready or interested in "jumping-in" into the IPO arena. They may wish to explore other avenues of capital expansion, such as private offerings, or they may feel they are not ready to "go public" at the present time and need interim bridge finance—or any combination of these or other methods of capital/financing arrangements. Whatever your company's needs, we have the expertise and familiarity with all the facets that play a part in deciding which path is best for you and your company. Our skills, developed over the years with companies in similar situations with comparable motivations, enable us to assist our clients through the maze and achieve the desired financial goal.
Once "public," our job is not over. There are ongoing needs for a public company in the areas of financial reporting and disclosure. We take a proactive approach to provide our clients with advice and counsel on emerging issues affecting their financial and other reporting needs.
Some of the ongoing services that we provide our clients:
Initial Public Offering (IPO)
Form S-1 registration statements
Periodic SEC Reports
Annual Form 10-K reporting
Assistance with Form 10-Q quarterly reporting
Assistance with Form 8-K requirements
Preparation of registration statements
Our firm comprises partners and staff who care about your company's future growth and stability. The challenges that you will be presented with when and if you make the decision to take your company public will need to be sorted out by a team experienced in these complicated matters. If you care enough about your business to dedicate yourself to its growth and success, don't you feel the professionals that you work with should be as equally committed? We are—and we would like to take the opportunity to show you how we can work together to take your business to the next level.
Public Company Audit Services
RRBB is registered with the Public Company Accounting Oversight Board (PCAOB) and is a member of the AIPCA's Center for Audit Quality. These affiliations are dedicated to ensuring that participating firms have quality control systems in place to properly manage their accounting and auditing practices.
We can provide, as your auditor, the following services to public companies.
Financial statement audits and interim reviews in accordance with PCAOB standards
Audits of internal control over financial reporting (Sarbanes-Oxley Section 404 Compliance Services)
Tax Compliance
Merger and Acquisition due diligence
Our audit engagement teams are staffed with experienced partners and managers with the expertise and authority needed to make decisions on complex issues related to your audit. When additional consultation is needed, it is done with partners in the same office of the engagement team to ensure quick and thorough responses. Your audit will not be placed on hold for multiple layers of consult with numerous offices.
"RRBB" is the brand name under which Rosenberg Rich Baker Berman, P.A. and RRBB Advisors, LLC, and its subsidiary entities, including CFO Financial Partners LLC, provide professional services. Rosenberg Rich Baker Berman, P.A. and RRBB Advisors, LLC (and its subsidiary entities) practice as an alternative practice structure in accordance with the AICPA Code of Professional Conduct and applicable laws, regulations, and professional standards. Rosenberg Rich Baker Berman, P.A. is a licensed independent CPA firm that provides attest services to its clients, and RRBB Advisors, LLC, and its subsidiary entities provide tax and business consulting services to their clients. RRBB Advisors, LLC, and its subsidiary entities are not licensed CPA firms.
Public Company Advisory Services
The Sarbanes-Oxley Act and other regulations have severely limited the ability of a company's external auditors to assist them as they previously did in implementing and reporting on complex matters.
At RRBB, our Public Company Practice Group has extensive SEC regulation and reporting expertise. In addition to audit services, we also provide advisory and accounting services to several publicly held corporations.
As your accounting and consulting firm, we offer the following advisory services to public companies.
Support for your annual audit and interim reviews, including coordination with the company's independent auditors
Preparation and/or Review of Financial Statements and Disclosures
Implementation of New Accounting Standards
Registration statement and IPO assistance
Assistance with technical accounting issues, including:
Complex debt and equity transactions
Business combinations
Variable interest entities
Revenue recognition
Accounting for income taxes
M&A assistance (due diligence)
Tax planning and compliance
Why we are a GREAT ALTERNATIVE

Over the last few years, many mid-sized firms have merged with larger firms. As a result, they have lost their ability to service clients in an efficient, timely, and cost-effective manner.
At RRBB, we pride ourselves in being a boutique firm able to provide you with the best of two worlds. We will deliver the expertise and experience of a large regional firm coupled with the attention and focus of a dedicated local firm. We are truly large enough to meet your needs yet attentive enough to deliver the responsive service you expect.
All of our public company engagements are staffed with experienced professionals who understand the complexity of regulatory compliance.
Our engagement teams are focused on quality and timeliness.
Our firm is comprised of partners and staff who care about the future growth and stability of your company. Our partners and professionals combine competence with judgment, maturity, and creativity – all the prerequisites for a quality audit.
We currently serve approximately 30 small and middle-market public companies and have worked with many others throughout the years.