Our Mission
We help our clients achieve financial success.
We deliver knowledge, ideas, and exceptional results.
We ensure the best for our clients and staff.
Rosenberg Rich Baker Berman & Company
About Us
As our clients have discovered, RRBB offers a refreshingly unique combination of integrity and attention to service powered by cutting-edge practices and up-to-date knowledge. Because we put our client relationships first, we provide responsive, quality service at reasonable rates.
In summary, we deliver knowledge, ideas, and exceptional results.
RRBB Definition of Quality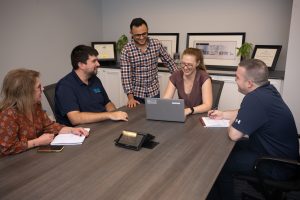 RRBB is a full-service accounting, advisory, and consulting firm located in central New Jersey. We have been delivering high-quality accounting, tax, audit, and advisory services for over 60 years. But it was never our aim to become the largest accounting firm in Somerset County. We have always been preoccupied with being supremely good at what we do and ensuring the best for our clients and staff.
In our view, this provides our clients with a level of relationship-based service usually found in smaller firms combined while still having the breadth of expertise and resources of a much larger firm. Because of that, we are proud to have placed second in the "Professional Services – Accounting Firm" category for the 2022 NJBIZ Reader Rankings among some of the largest accounting firms in New Jersey.
With RRBB, providing superior service entails:
Always performing client work to stringent accounting practices, standards, and procedures
Ensuring that clients are served only by professionals with the skills and knowledge required for the particular task
Responding to client needs and communications in a timely fashion, regardless of the size of the project
Taking a proactive and creative approach to our clients' situations and looking beyond the immediate, beyond the obvious
Providing our service and expertise at fair and reasonable rates
Making RRBB easy to work with, while instilling confidence and peace of mind in our clients
The people here at RRBB are deep thinkers who aim high and deliver quality results. So, we are an integral resource for our clients; proactive, creative, and attentive. We help our clients achieve financial success because we deliver knowledge, ideas, and exceptional results.
Accounting, audit, and tax are what we are good at. Helping your company grow in a smart, prudent way is what we are great at.
A Unique, Uncompromising Approach to Service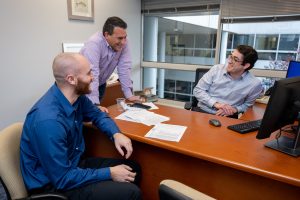 RRBB provides big firm capabilities but offers boutique firm attention. Additionally, our accountants and advisors have vast experience in many disciplines. Therefore, we can be your one source for many resources. Specifically, some of the many services include:
Accounting
Audit
Tax
Estate planning and consulting
Valuation and litigation support
CFO outsourcing and FINOP services
Professional practices consulting
Consulting services to startups and early-stage companies from formation to due diligence
Who Works With RRBB?
RRBB has always made it a point to devote all of the firm's resources, attention, and talent to serving the needs of our clients.
As a result, virtually all our business and personal clients have come to RRBB on the first-hand recommendation of a colleague, a fellow professional, or another client.
We currently work with a broad range of publicly-held companies, private companies in a wide spectrum of industries. Non-profit organizations and individuals who have specialized financial and accounting needs also rely on us to walk them through it all.
Global Capabilities

In addition, for clients who have subsidiaries or other financial interests outside the country, RRBB provides a complete menu of services through our membership in PrimeGlobal.
PrimeGlobal is one of the top five largest associations of independent accounting firms in the world, providing a wide range of tools and resources to help member firms furnish superior accounting, auditing, and management services to clients around the globe.